Best BPMN Books Bundle
$69.95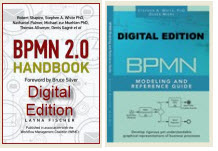 Two Best Sellers - One Special Price! Retail $114.95
Huge 39% Discount.
Pay only $69.95 for both BPMN books in one bundle. You Save $45.00.

BPMN Edición digital en español
Precio: $49.95
Comprar


Excellence in Practice, Volume III
Innovation and Excellence in Workflow/Process Management and Document/Knowledge Management
Edited by Layna Fischer
Retail $50.00. Now only $15.00
ORDER FORM
ISBN: 09640233-8-5
Pages: 360
Published October 2000
Price: US $50.00
Size: 7" x 10"
Quality laminated hardcover. Illustrations, charts, references, appendices, bibliography, index.
Learn more about the Global Excellence Awards including rules, submissions and deadlines.
The criteria for the case studies in this book.

Each received an Excellence in Workflow Award based on the following:
Innovation encompasses the innovative use of technology for strategic business objectives; the complexity of the underlying business process and IT architecture; the creative and successful deployment of advanced workflow and imaging concepts; and process innovations through business process reengineering and/or continuous improvements.
Hallmarks of a successful implementation include extensive user and line management involvement in the project while successfully managing change during the implementation process. Factors impacting the level of difficulty in achieving a successful implementation include the system complexity; integration with other advanced technologies; and the scope and scale of the implementation (e.g. size, geography, inter-company processes).
Impact is the bottom line, answering the question "what benefits do imaging and workflow deliver to the business?" Examples of potential benefits include: productivity improvements; cost savings; increased revenues; product enhancements; improved customer service; improved quality; strategic impact to the organization's mission; enabling culture change; and-most importantly-changing the company's competitive position in the market. The visionary focus is now toward strategic benefits, in contrast to marginal cost savings and productivity enhancements.
Table of Contents

Guest Chapters
To add depth and meaning to the case studies, leading industry analysts and experts were invited to contribute chapters from their respective perspectives.
Streamline Your Business Processes with Workflow and Extranet Solutions
The introduction is by Connie Moore, leading industry analyst and Vice President with Giga Information Group, and Excellence Awards judge, jointly with Gig Graham, Chief Research Officer, Giga Information Group. Here, they watch a new trend in the way an enterprise delegates and manages business processes in its extranet, and a new role for workflow technology within organizations. One of the revolutionary concepts made possible by the Internet is "electronic value chains" of carefully sequenced insourced and outsourced business processes for delivering and servicing products. In economic terms, the Internet enables the disaggregation of internal processes and reaggregation of specialists into a modern workflow, often at new price points or with higher-quality products.


Technologies for the Virtual Enterprise
Martin Ader, Principal of Workflow & Groupware Strategies, France, and author of the highly acclaimed Comparative Analysis of Workflow Products, looks at how the development of the Internet, coupled with the development of technologies for Knowledge Management and Work Management, will have deep influence on the way economic actors play their role in the worldwide market place. This will lead to the development of a new form of economic undertaking, the "Virtual Enterprises" where sets of economic actors are associating their strengths to provide a specific service traditionally provided by a single enterprise. Such a possibility will have, in the long term, deep influence on the economy and enterprise development strategies. This chapter shows how this can modify the way work can be organized and conducted, and demonstrates how those effects enable competition between virtual enterprises and traditional ones, and gives an overview of the conditions to make it happen.


Process Support
Derek Miers, Principal, Enix Consulting Ltd., England, offers excellent advice to business leaders who must make critical decisions regarding the development of the next generation of Web-based enterprise application systems, e-commerce products and Web-based services targeted at the business sector. The key point he makes is that building and maintaining an effective support infrastructure for business processes have become a technologically demanding task with relatively high costs attached. More importantly, the capability of the firm to rapidly bring products to market is significantly inhibited. On the other hand, embedding robust process oriented components within Web-based applications will speed the time-to-market and lower the cost of ownership. Unless developing process support engines for the Web is a core capability of your company, embedding a product architected for that environment will deliver a much higher return on investment than in-house development, while also ensuring that products and services are brought to market more quickly and effectively.



The Workflow Market in 1999 and Beyond
Priscilla Emery, Senior Vice President, Association for Information and Image Management International (AIIM), presents some of the results of AIIM's annual worldwide study and provides a status of the document technologies marketplace, from both a user and a supplier perspective. In 1999, AIIM requested that GartnerGroup conduct this study. The resulting information provides insight into the growth of the different document technology areas, the reasons for that growth and some of the issues that both suppliers and users consider the most pressing in this area. Workflow is one of the document technology areas that were examined. This chapter summarizes the findings of the market research as they pertain to workflow technology and trends.


The Case Studies

We, at Giga Information Group and WARIA, are most fortunate to have read all the submissions for the Excellence Awards-not just the Gold and Silver winners. Having combed through hundreds of submissions over the years across many countries and continents, we can clearly discern patterns in how companies achieve excellence. While not all companies share each and every characteristic, there is enough commonality to detect distinct paths for achieving excellence. When several of these characteristics are combined in a single installation, they often result in visionary companies moving the competitive goalposts for their industries, as you will read in the following case studies:


Arthur Andersen LLP (Amsterdam, Netherlands). As a professional services corporation with 1998 revenues about $6 billion and over 60,000 employees in 363 locations in 78 countries, for Arthur Andersen LLP (Amsterdam, Netherlands) knowledge represents 99.95 percent of what AA sells to its clients and is the core process of their value chain. This has enabled them to drive revenue growth in their consulting areas, the chief users of the Knowledge Management Systems, at a rate greater than 40 percent per year. This has allowed them to increase their ability to value bill, improve their competitive position while adding significant numbers of new associates. Nominator: Arthur Andersen. Gold, Document/Knowledge Management


Autogere-Seguros e Pensoes (Lisbon, Portugal) This large financial group handles 700,000 insurance policies from five different insurance companies. Their business problem revolved around five different claims processing systems. Their solution was to implement common front end to back office systems. They integrated imaging, telephony, fax, and transaction processing using workflow across the supply chain. Their call management system included computer integrated simultaneous voice/data, and inbound/outbound call scripting. The work management system used a single point of entry, including remote access, process maps, business applications, and process agents. In addition, Autogere automated inbound/outbound faxes, digital photography, remote access, and automatic letter generation integrated with their preferred supplier contractors. By enterprise-wide support of their value chain they now handle over 70 percent of claims on the first call, resulting in a significant cycle time reduction from opening to closing claims. Nominator: Methodus. Gold, Workflow/Process Management


Bank of America Capital Markets Operations (San Francisco, CA) This application describes the reengineering and workflow automation of the process used to acquire, setup and maintain new brokerage accounts within the Capital Markets Operations division of Bank of America. The end result of this project is a large-scale workflow and imaging system that has at least quadrupled processing capacity of the new accounts group. Documents are introduced to the system via traditional scanners, via a large network of facsimile machines, via FTP data transfers, and via intranet forms. Once in the system, significant amounts of data are collected from the various documents using a leading ICR/OCR/OMR forms recognition engine. Finalist, Workflow/Process Management


Blue Cross & Blue Shield of South Carolina (Columbia, SC) Their military health claim operation was a very paper intensive process and a very cost competitive business. BCBSSC's high claims volumes of over 500,000 claims in process with more than 100,000 new claims added daily impacted their ability to meet service level and cycle time minimums for processing claims according to government contract requirements. A unique add-on product allocation allows them to facilitate high volume distribution of claims records and images using a "push" methodology, yet gives supervisors the ability to redistribute work on an exception basis as needed and on demand. Nominator and integrator is Syscom, Inc, and with software solutions provided by IBM Corporation. Finalist, Workflow/ Process Management.


CFI Mail Order Pharmaceuticals (Harrisburg, PA) One of the nation's largest privately owned mail order drug company filling millions of prescriptions annually and serving four million individual customers throughout the United States, invented a completely electronic workstation for professional pharmacist knowledge management. CFI tied together imaging, OCR/ICR, bar code, document management, core line-of-business applications, on-line databases and other technology components into a total enterprise solution. The new system resulted in dramatic expansion of the business capacity by more than 50 percent; increased overall professional staff efficiency by one third; and improved customer services. Nominator is Interling (Logical Software Solutions). Silver, Document/Knowledge Management


Detroit Edison Finalist, Document/Knowledge Management DE generates over 46 million kilowatt-hours annually with eight fossil plants and one nuclear facility and is Michigan's largest electric utility serving two million electric customers in 7,600 square miles. Because of the need to access over 300,000 easement documents and 4,000 owned property records, they implemented the Corporate Real Estate Services (CRES) Database/Imaging System to automate the process of file retrieval and to protect these easement agreements (some of these fragile documents were acquired before the year 1900) from catastrophic loss. Nominator is Eastman Software Inc.


ForeningsSparbanken (Stockholm, Sweden) This preeminent retail bank holds $85 billion in balances, has over 11,800 employees, 4 million private customers, and 200K business customers. They changed from duplicate systems due to mergers, bureaucratic, paper-driven environment, outdated email, branch and document management systems to one bank, one information channel, and one way of searching for information. They were first European bank to integrate web-based workflow, implementing an Intranet for electronic mail, discussion groups, workflow and DM, BPR for pilot systems, purchasing and customer feedback and Workflow integrated with EDI. They have realized savings of over $600K and they forecast $20M/year savings in 1999. Workflow linked to EDI saves $25 per invoice, purchasing cycle time has gone from 37 hours to less than 2 hours, administration reduced to 20 percent of its previous cost. Silver, Workflow/Process Management


George Mason University (Fairfax, VA) George Mason University (GMU) serves more than 25,000 students enrolled in more than 100 degree programs at the undergraduate, graduate, masters, doctoral and professional levels. George Mason saw Web-based work management solutions deployed on an Intranet as one of the best ways to regulate and reengineer its business processes because of the relative ease of deployment and training. The first Intranet workflow application targeted by the George Mason University was Temporary Employee Request (TER) because of the high number of employment requests processed and a large population affected. Finalist, Workflow/Process Management


Government of New Brunswick (New Brunswick, Canada) Faced with challenge of maintaining their documents in multiple languages-principally French and English-operates a Translation Bureau in its Department of Supply and Services. This Bureau, which consists of approximately 35 people, provides translation and interpretation services for all departments of the provincial government. In addition to the internal staff of translators, interpreters, secretaries, typists, proofreaders, and receptionists, the Bureau contracts with 50 independent freelance translators. The Bureau transformed what was previously a slow, paper-based, resource-intensive process into a streamlined, automated flow that has dramatically reduced costs and processing time, and increased productivity and accuracy. Nominator is JetForm Corporation, with integration by Ordiplan. Finalist, Workflow/Process Management


IBM Global Services (Sleepy Hollow, NY) created CM AssetWeb to provide the infrastructure for IBM's Knowledge Management Solutions. ICM AssetWeb is a strategic knowledge and asset management collaboration system used by IBM Global Services and Global Industries to team, execute and win customer engagements by creating, sharing and reusing intellectual capital. Intellectual Capital consists of information, know-how, experiences, wisdom, ideas, objects, code, models and technical architectures that are structured to enable sharing for reuse to deliver value to customers and shareholders. Nominator is IBM Consulting Group, Integration by IBM Global Services. Gold, Document/Knowledge Management


IBM ICMS New Zealand Ltd. (Hutt City, New Zealand) For this large multinational corporation, their key motivation was to build a knowledge solution that would become an integral part of the product development lifecycle, and be shared across all business groups. Their customer care and billing system was an online repository of intellectual capital enabling information capture, re-use, design, update and distribution. This innovative system resulted in content development reduced by 50 percent, 75 percent information re-use together with $40K saved per release on new manual distribution and $150K saved per implementation project. They transformed the internal culture from one that saw information only as 'documentation' to one that recognized the asset value of knowledge. Gold, Document/Knowledge Management


Immigration & Naturalization Services (Washington D.C.) The INS, an agency of the Department of Justice is responsible for enforcing the laws regulating the admission of people born outside of the United States and for administering various immigration benefits, including the naturalization of resident aliens. The ultimate mission of the INS' FOIA/PA unit is to respond to a constituent's "right to know" by providing timely information to the public and other Government agencies when they request it, within the provisions of pertinent laws and regulations. Finalist, Document/Knowledge Management


Kaiser Permanente (Oakland, CA) is the largest Health Maintenance Organization in America with over 8.6 million members. Through their Outreach Program-generating more than 8 million customized correspondence pieces annually-Kaiser Permanente can now contact patients who didn't normally schedule appointments for physicals, cancer screenings, mammograms or PAP tests. By combining data mining techniques with the document technologies, Kaiser Permanente generates personalized communications from doctors to patients who may be at risk, requesting an appointment. By applying all formatted data and graphics at the time of print, they decreases costly programming time cutting $300,000 annually in outsourced printing costs. Nominator is Cincom Systems, Inc. Merit, Document/Knowledge Management


Korea Advanced Institute of Science and Technology (Taejon, South Korea) A leading engineering university, KAIST has 5500 students, 360 professors, 500 employees, 100 researchers and a virtual university. Their business problem was that inaccurate forms created re-work in their bureaucratic, paper-driven environment. Their solution was to initiate an ambitious project called Intelligent Campus to build a virtual university. Started in 1993, K-WFMS has been developed to automate business processes in administration, which is one of the core components of CAIS (Campus-wide Advanced Information System an integrated information system that supports the various functionalities of virtual university, including workflow and smart forms. They reengineered 20 main processes, affecting 4,000 clients, and reduced cycle time by 50 percent and saved 6,400 hours/year. Silver, Workflow/Process Management


Kraft Foods (Northfield, IL), the nation's largest packaged food retailer, identified potential savings through the consolidation of over 230 employees and 2,500,000 annual invoices across 60 operating plants involved in processing through a wide variety of accounts payable systems. In 1994, Kraft Foods put in place a Shared Services Center (SSC) in San Antonio for this purpose. Today SSC operates as one of the most efficient Accounts Payable Service Providers. The system connects three different systems through a common interface to process $7.3 billion in invoices annually from thousands of vendors. The system stays 100 percent compliant with Kraft's control policies while achieving a 37 percent reduction (from $7.50 to $4.74) in transaction costs. Nominator and integrator is ICG Consulting using FileNET's workflow platform. Gold, Workflow/Process Management


Lewisham Borough Council (London, England) This low-income borough in large metro city dealt with a very high unemployment constituency, of which 25 percent of their tenants have no telephone and more than 60 percent receive benefits. In their Revenues & Benefits Department, management was extremely paper- and detail-intensive, handling 32,000 council tax benefits, 216,000 in-office payments, and 500,000 payments. Through the deployment of workflow technology, efficiencies in this area will allow for collections to reach a 95 percent success rate in financial year 98/99. The department manages an average 120,000 actions on Council Tax accounts and in recent times has issued 82,000 reminders. By installing video booths called "TellyTalk" in the borough, they plan to integrate workflow throughout their inter-governmental collaboration. To date they have achieved £5 million additional revenues, £1.7 million saved on fraud investigations, £0.5 million savings through efficient document management and more. Silver, Document/Knowledge Management


Office of the Secretary of Defense (Washington D.C.) The Office of the Secretary of Defense (OSD] Legislative Affairs is the primary liaison between Secretary of Defense and Congress. With 200 to 300 separate inquiries initiated each month, the scrutiny on the duties of this organization is formidable. Over the past several years, public pressure has increased and various mandates have been enacted requiring improved business performance from government agencies. Using procedural and ad hoc process management, which provides the necessary flexibility the OSD Legislative Affairs requires, they are now responding to inquiries 15 times faster and processing more responses with 10 percent fewer personnel. Finalist, Workflow/Process Management


Phillips Fox (Sydney, NSW, Australia) As a leading commercial law firm with 12 offices across Australia, New Zealand and Vietnam, Phillips Fox has uses technology in an innovative way to help capture and disseminate legal knowledge. Their business problem evolved from multiple disparate databases, using different database syntaxes, resulting in information hoarding by their lawyers and duplicated research efforts with no audit trail of information access. They were the first law firm to implement knowledge management, and the first with a high volume claims litigation product. This implementation, which changed the way lawyers share and access information, redesigned existing Intranet processes, aligned IT and knowledge management, integrated document management, databases, workflow, documents, email, with the result that one query searches all repositories. Silver, Document/Knowledge Management


Screen Actors Guild Producer's Pension and Health Plans (Burbank, CA) is a trust that was established to provide a portable set of health and pension benefits to its 37,000 health and 5,500 pension members. The SAG-PPHP Claims Processing Imaging and Workflow System captures incoming health insurance claims using OCR software, checks them for accuracy against legacy system records, verifies that all required supporting documents have been received, and delivers them into an insurance adjuster's work queue for resolution, thus greatly increased efficiency in processing over 530,000 claims annually. Nominator is Eastman Software, Inc., with Integration by Omnikron Systems, Inc.. Finalist, Workflow/Process Management


Texas Women's University, (Denton, TX) Resources to track all the information that is required to approve a loan, grant or scholarship have been shifted from personnel to the workflow system. As each document is received and scanned, the databases on both the host and workflow systems are updated. Cost benefits include increased productivity and reduced operating costs. The amount of time to process items through the flow has been reduced. More items can now be processed with a smaller staff. Finalist, Workflow/Process Management


University of South Florida, (Tampa, FL) USF is a public state institution with more than 36,000 students and over 8,600 faculty and staff. With campuses in Tampa, Lakeland, Sarasota and St. Petersburg, it is the 13th largest university in the United States and the second largest among Florida's 10 state universities. Integrating the legacy and manual processes with new and innovative technologies via the intranet system provided a set of flexible processes that use a single source of information in a meaningful and useful way. Implementation was a challenge, but the rewards have been great. Finalist, Workflow/Process Management


The Workers' Compensation Board of British Columbia (Richmond, BC, Canada) is the sole provider since 1917 of workers' compensation insurance to the 1,000,000 workers and 140,000 employers of British Columbia. The WCB's Compensation Services Division implemented an Electronic Claims File system (or E-File), the technology backbone of its organizational change efforts. E-File is a claims management system that applies imaging, workflow, and data integration to help CSD process 8,000,000 documents each year, manage 200,000 injury claims each year and make US$500 million in benefit payments. As a result, 70 percent of new claims are electronically processed, with a 36 percent improvement in customers receiving income continuity. WCB expects to save US$29.6 million in administration and benefits in 1998. Nominator is Workers' Compensation Board of British Columbia. Silver, Workflow/Process Management


Zurcher Kantonalbank, (Zurich, Switzerland) ZKB is the third largest bank in Switzerland. In a world of growing global banking competition, the ZKB acted upon its vision of rationalizing work and efficiency. The ZKB initiated a FIT policy for industrializing business management and production, and automating banking processes. A workflow system was installed to manage processing tasks in a centralized Securities Administration Department. The sub-department of Bonds Redemption was the first workflow project, and it is currently in production. Finalist, Workflow/Process Management.


Readers of these detailed case studies can find out more about:
·

Their system application, what the system is used for, who are the users and what the job entails
·

What were their key motivations

Their system configuration (number, and type of software, servers, scanners, printers, storage devices, etc., including the identities of the vendors and integrators involved)
·

The number of users currently on the system and number of users planned.
·

How the company has been impacted by their new system; cost savings, ROI and increased productivity improvements, competitive advantage gained, and how they managed to move the goal posts for their industry.
·

Their implementation process and methodology, the project team, and the change management and business process reengineering issues they addressed.
·

How these companies managed both their overall technological and business innovations.
What does that BPM acronym mean?




Simply type in any term and get the quick answer

Only $9.97 each
(retail $25.00).

Download immediately!
This new eBook series presents the collection of best and most important chapters on their respective topics recently published in the annual BPM and Workflow Handbook series and other publications.
Introduction to BPM and Workflow
Financial
Healthcare
Utilities and Telecommunications





Business Transformation Series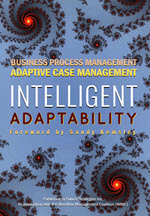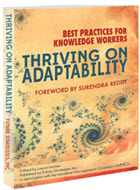 ~ Business and Dynamic Change
~ BPM Everywhere
~ Thriving on Adaptability
~ Empowering Knowledge Workers
~ iBPMS - Intelligent BPM Systems
~ Human Centric BPM
~ Social BPM
~ Taming the Unpredictable
~ BPMN 2.0 Handbook 2nd Edition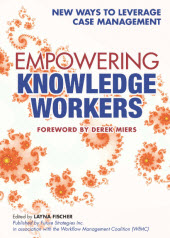 Retail $49.95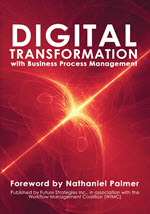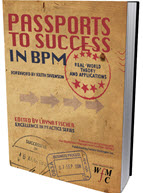 * Thriving on Adaptability
* Passports to Success in BPM
* Moving the Goalposts
* Using BPM for Competitive Advantage
* Innovation, Implementation and Impact
* Successful Process Implementation
* Delivering BPM Excellence
* Taming the Unpredictable
* Customer-Centric Organization
* How Knowledge Workers Get Things Done
* Delivering Competitive Advantage
* Understanding and Using BPM
____________________
Could your case study be an Award-winner?
Get recognition for your visions and your team's achievments.


WfMC Awards for Excellence in BPM and Workflow

WfMC Awards for Excellence in Case Management