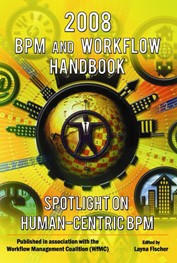 ADD TO CART
View Larger Image
.
Retail $95.00.
Now reduced to $65.00
Best BPMN Books Bundle
$69.95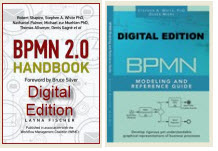 Two Best Sellers - One Special Price! Retail $114.95
Huge 39% Discount.
Pay only $69.95 for both BPMN books in one bundle. You Save $45.00.

BPMN Edición digital en español
Precio: $49.95
Comprar


2008 BPM & Workflow Handbook




SPOTLIGHT ON HUMAN-CENTRIC BPM
Methods, Concepts, Case Studies and Standards

in Business Process Management and Workflow
Available in both Print and two Digital Editions.
Retail $95.00 - now reduced to $65.00 each.

-------------------------------------------------------------------------------
** DIGITAL EDITION: LIMITED TIME SPECIAL OFFER**
Buy the 2008 BPM and Workflow Handbook Digital Edition v2 and get BPMN Modeling and Reference Guide Digital Edition for FREE

Here's how it works... Buy the best-selling BPMN Modeling and Reference Guide Digital Edition for only $39.95 and get 50% discount on the 2008 Handbook Digital Edition v2 (retail $95.00).

You're basically getting the BPMN Modeling and Reference Guide Digital Edition for FREE by saving $47.50 on the 2008 Handbook EXPANDED 412-page Digital Edition v2. See special offer here.
-------------------------------------------------------------------------------
Spotlight on Human-Centric BPM
Do you know how people's processes fit into an automated environment?
Human-centric business process management (BPM) has become the product and service differentiator. The topic now captures substantial mindshare and market share in the human-centric BPM space as leading vendors have strengthened their human-centric business processes. Our spotlight this year examines challenges in human-driven workflow and its integration across the enterprise.
Edited by Layna Fischer
Published in association with the Workflow Management Coalition (WfMC)
Retail $95.00. Now reduced to $65.00 .
Available in both Print and Digital Editions.

The new DIGITAL EDITION v2 now available.
This Digital Edition Version 2 offers 412 pages expanded with EIGHT more chapters from the 320-page Print Edition and the first version Digital Edition.
Download the complete NEW Version 2 now!
Retail $95.00. now reduced to $65.00Download 8MB zipped PDF.
See below for the list of extra chapters
Publication Date: April 2008
ISBN: 978-0-9777527-6-8
Quality hardcover. 320 pages.
US $95.00 Retail.
Size: 7" x 10"
Add to Cart
Starting with a look at the new business imperative for BPM in 2008 by Nathaniel Palmer, WfMC Executive Director, chapters this year include useful non-technical advice on implementing your first BPMS, step by step instructions on creating SOA and a look at converging BPM technologies and how they will affect your business. Technical papers include detailed examination of process mining and integration of WfMC standards with others in this space.
A special spotlight on Human-Centric BPM examines challenges in human-driven workflow and its integration across the enterprise.
Throughout the book international industry experts and thought leaders present significant new ideas and concepts to help you plan a successful future for your organization.
Table of Contents
Foreword
Jon Pyke, Chair WfMC, United Kingdom
(download this chapter now for free)
Introduction: Workflow and BPM in 2008: A New Business Value Imperative
Nathaniel Palmer, Executive Director, Workflow Management Coalition, United States
(free download of this chapter immediately )
SECTION 1-The Business Value of BPM and Workflow
BPM, SOA, and Web 2.0 Convergence: Business Transformation or Train Wreck




Linus Chow and Peter Bostrom, BEA Systems, United States
Building a Scalable and Sustainable BPM Center of Excellence


Clay Richardson, Project Performance corp., USA & David Atwood, Govt. of Bermuda, Bermuda
Making Intelligence Actionable: Business Process Management and Business Intelligence


Patrick Morrissey, Savvion, USA
Applying Decision Management to Make Processes Smarter, Simpler and More Agile




James Taylor & Neil Raden, Smart (Enough) Systems LLC, USA
Business Process Architecture and Business Transformation




Chris Lawrence, Old Mutual, South Africa
Keeping it Simple in the Complex World of BPM




Amit Rajaram, HSBC Group, India
SOA: Simple Step-by-Step




Federico Silva & Alfredo Cisterna, PECTRA Technology, Inc., USA
Implementing Your First BPM Project: Tips and Pitfalls Case Study




Karl Djemal, Citi, United States
Engagement Transforms Processes, Inside and Outside the Enterprise




Raja Hammoud, Adobe Systems, Incorporated, USA
SPOTLIGHT ON HUMAN-CENTRIC BPM
System Automation vs. Human Facilitation


Keith Swenson, Fujitsu Computer Systems, USA
(download this chapter now for free)
MyBPM: Social Networking for Business Process Management


Dr. Setrag Khoshafian, Pegasystems Inc., USA

Services: Integrating User Interfaces into a Service-Oriented Architecture


Jeffrey Ricker, Jeffrey Ricker LLC, USA
Impact of Organizational Changes on Running Processes: a Challenge for Achieving Business Agility




Salvatore Latronico, Gianpiero Bongallino & Francesco Battista, Openwork, Italy
Human-Driven BPM: the Missing Piece is People




Roberto Silva, SAP Latin America, Mexico
The Rise of Project Workforce




Rudolf Melik, Tenrox, Canada
XPDL Cross-Product Exception Handling for Workflow Management Systems




Giuseppe Pozzi, Politecnico di Milano; Carlo Combi, University of Verona; Florian Daniel, University of Trento, Italy
The Road to XPDL 2.0: Case Study




Justin Brunt, TIBCO Software, United Kingdom
SECTION 2—STANDARDS AND TECHNOLOGY
Integration of Workforce Management with a Business Process Management Suite


Robert Shapiro, Global360, United States
(download this chapter now for free)
Department of Defense Suspense Tracking




Charles Joesten, ICOR Partners, LLC, USA
Process Mining




John Hoogland, Pallas Athena, The Netherlands
Analysis of Most Common Process Modeling Mistakes in BPMN Process Models




Tomislav Rozman, LANCom, Gregor Polancic & Romana Vajde Horvat, University of Maribor, Slovenia
The Temporal Perspective: Expressing Temporal Constraints and Dependencies in Process Models




Denis Gange, Trisotech; Andre Trudel, Acadia University; Canada
How to Implement the Automation of Omnipresent 'Distributed Treatments' in BPMS




Dr. Juan J. Trilles, AuraPortal, Spain
The Representation of Dynamic, Context-Informed Workflow




H. Dominic Covvey, Donald D. Cowan, Paulo Alencar, Shirley L. Fenton, David Hanriques, Joel So, William J. Malyk; University of Waterloo, Canada
BPM and Corporate Measurement Systems: Putting "Intelligence" Back Into BI
Dennis Korevitski, Brianna Knox; Covestic, Inc., USA


Emerging convergence of BPM, ECM and Portals in Financial Services
Vinaykumar.S.Mummigatti, Satyam Computers Services, USA


Transformation of Government: Through a Gateway that leads to Information Society
Omer KILIC, Adobe, Turkey


PQMM: A New Model to Measure Business Process Quality
Dr. A.Selcuk Guceglioglu, Onur Demirors; METU, Turkey


A Holistic Adoption Framework for Long Term Success of BPM
Jyoti M. Bhat, Jude Fernandez; Infosys Technologies Limited, India


Reconciling and enacting cross-organisational business processes for B2B e-commerce
Paul W.H. Chung, Xi Chen; Loughborough University, United Kingdom


BPM Standards and Guidelines
Sachin Mandhare, Satyam Computers Services Limited, India


Service oriented workflow system for digital media broadcasting
JuHee Bae, DaeRyung Lee, IBM, Korea; Paolo Dettori, Julio Nogima, Frank Schaffa, IBM, USA
SECTION 3—DIRECTORIES AND APPENDICES
WfMC Structure and Membership Information

Membership Directory

Officers and Fellows

Author Biographies

Index
What does that BPM acronym mean?




Simply type in any term and get the quick answer

Only $9.97 each
(retail $25.00).

Download immediately!
This new eBook series presents the collection of best and most important chapters on their respective topics recently published in the annual BPM and Workflow Handbook series and other publications.
Introduction to BPM and Workflow
Financial
Healthcare
Utilities and Telecommunications





Business Transformation Series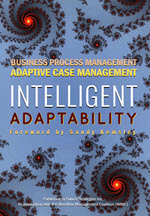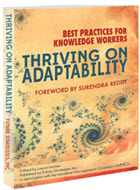 ~ Business and Dynamic Change
~ BPM Everywhere
~ Thriving on Adaptability
~ Empowering Knowledge Workers
~ iBPMS - Intelligent BPM Systems
~ Human Centric BPM
~ Social BPM
~ Taming the Unpredictable
~ BPMN 2.0 Handbook 2nd Edition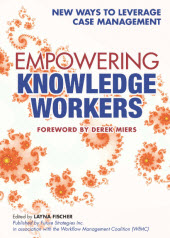 Retail $49.95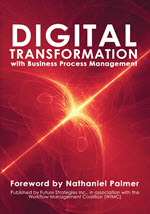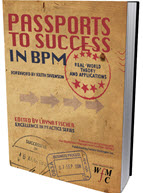 * Thriving on Adaptability
* Passports to Success in BPM
* Moving the Goalposts
* Using BPM for Competitive Advantage
* Innovation, Implementation and Impact
* Successful Process Implementation
* Delivering BPM Excellence
* Taming the Unpredictable
* Customer-Centric Organization
* How Knowledge Workers Get Things Done
* Delivering Competitive Advantage
* Understanding and Using BPM
____________________
Could your case study be an Award-winner?
Get recognition for your visions and your team's achievments.


WfMC Awards for Excellence in BPM and Workflow

WfMC Awards for Excellence in Case Management